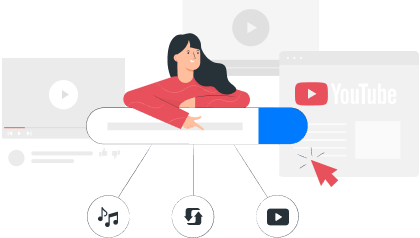 A new intuitive YouTube Converter that everyone will love
There's a host of software solutions available that you can use for converting and downloading music. Though, unlike Allyoutube.org, many of these tools have some serious limitations. What sets Allyoutube.org apart is that it's intuitive, fast and offers great functionality.
Major perks of switching to this YouTube converter website
1
Can convert to all the latest file formats. It doesn't matter if you prefer AVI over MP3, or .WMA over .MP4, Allyoutube.org can convert your music videos to any format you wish.
2
Converts and downloads at the speed of light. Thanks to the use of cutting-edge tech, Allyoutube.org will get the job done fast - like in absurdly fast. Want to convert and download multiple files? No problem! This new YouTube converter can download multiple tracks without compromising the quality.
3
Enjoy your music in HD sound. Now anyone can enjoy HD-quality downloads without having to wait forever.
4
Convert and download up to 99 files simultaneously. Yes, you read right. When using this tool, you can download multiple files at the same time. This means that you can also download entire playlists.
5
Unidentified tracks a thing of the past. Thanks to its built-in ID3 Tag Editor, ID3 tags will be assigned to all the tracks that you download.
6
Audio player included. Allyoutube.org also has its very own audio player.
How to use the Allyoutube.org YouTube converter
step 1
Insert the link of the video from YouTube into the Allyoutube.org website
step 2
Click on "Convert"
step 3
Click on "Download"